[INFO] About YG Family Number Card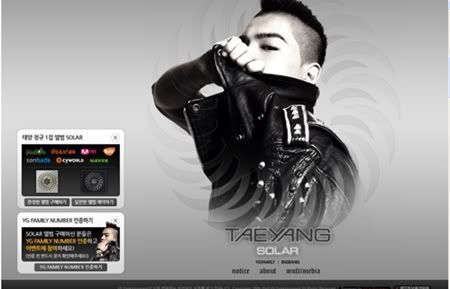 If you visit Taeyang's Official Site when you click the top box, there's a message from YG about the YG Family Card based on google translator.
I can't read Korean  so it might be wrong.
We will update this soon when our Korean Translator get on or someone already translated it.
Hello,
this is YG Entertainment.
This is a guide of YG FAMILY NUMBER certification.
1. YG FAMILY CARD?
YG Entertainment will be released in the forest of all the YG Croatian commemorative card is inserted into an album (digital single exception)
(YG FAMILY CARD production quantities in the second album included only two points, so please refer)
2. YG FAMILY NUMBER?
YG FAMILY CARD listed in the certificate number consisting of the total 16 seats
3. What's the good points to be authenticated of YG Number Card?
Each album is in progress on the official website for each event the artists will be applied for,
YG news e-mail, SMS can be sure to get to. Scheduled to open in the future with YG FAMILY ZONE can be used.
* YG FAMILY ZONE and related details will be announced later through the advise.*
Step for certification
1. Signing YG e-shop
(1) must be logged in as YG e-shop ID and authentication is required.
(2) YG e-shop is affiliated with my personal information out of existing non-subscribers
If you have any other information, sign up for an event in progress may be penalized.
YG FAMILY NUMBER authentication and let's join SUMMER EVENT!
- 1st SUMMER EVENT!
A house full sun [SOLAR] Deluxe Edition of the buyer within 1 to 20 July
Direct sun-certified members who selected winners!
SUMMER EVENT will be announced July 9.
- How to participate Events
Must have YG Family Card or YG Family Number
Have account on YGE Shop
- Event Participation Period
1 July 2010 ~ July 20 th
- Winners Announced
Wednesday July 22, 2010 19:00 / Taeyang official bulletin board
- The first winner presents of SUMMER EVENT
Summer Sonic Japan Big Bang concert appearances round-trip ticket + tickets + accommodation (1 person)
Global Rock Festival 2010 Summer Sonic confirmed participation in the Big Bang!
Special gift from Taeyang (5)
Taeyang direct selected a special gift. The gift is secret until the announcement of the winner!
Taeyang handwritten signature (30)
Sources: BBVIPZ//http://www.ygbigbang.com/taeyang/
Rough translation by: andrelee@soompi
Edited by: caca@21BANGS.com